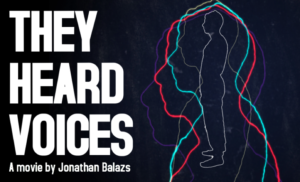 Co-sponsored by ISPS-US and Hearing Voices NYC:
THEY HEARD VOICES is documentary film exploring the Hearing Voices Movement, chronic psychosis and the schizophrenia label. The film is a series of wide-ranging interviews with voice hearers, medical historians, anthropologists and psychiatrists from Britain and America, presenting different people's views.
Panel with audience Q & A will follow featuring members of ISPS-US & Hearing Voices NYC:
Matt Estrada, Tami Gatta, & Peri Zarella
When: July 13th 2017
Where: Jefferson Market Library 425 Ave of the Americas (6th ave & 10th Street)
Cost: FREE
ISPS is international organization dedicated to development and promotion of social and psychological approaches to experiences that get called "psychosis".
ISPS-US is the North American Chapter of ISPS and is active organizing events in North America, members include professionals of all stripes including: psychologists, psychiatrists, nurses, social workers, OTs, therapist and a whole bunch of others; as well  as experts by experience,  family members and carers – everyone. You can join too.
Membership of the ISPS-US automatically includes membership to ISPS international, so you get the best of both.
ISPS-US holds annual conferences , this year's conference is in Portland, October 2017. ISPS hold international conferences biannually – next one is in Liverpool.
SaveSave
SaveSave