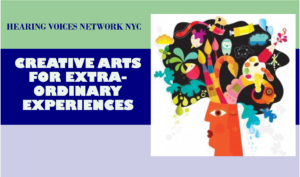 Starting August 1st, we will be offering a free creative arts therapy workshop to individuals hearing voices, seeing visions, and having other experiences often referred to as "psychosis".
The group will incorporate drama, movement, art and music as ways to externalize and concretize phenomena often difficult to put into words.
There are few free services of this nature available, and we are hoping to reach folks who might not otherwise have the chance to explore their voice hearing experiences creatively.
Meetings will be held weekly:
East Village Access (EVA)
242 East 2nd Street, between Ave B & Ave C