CURRENT EVENTS:
ISPS-US National Conference (Hybrid)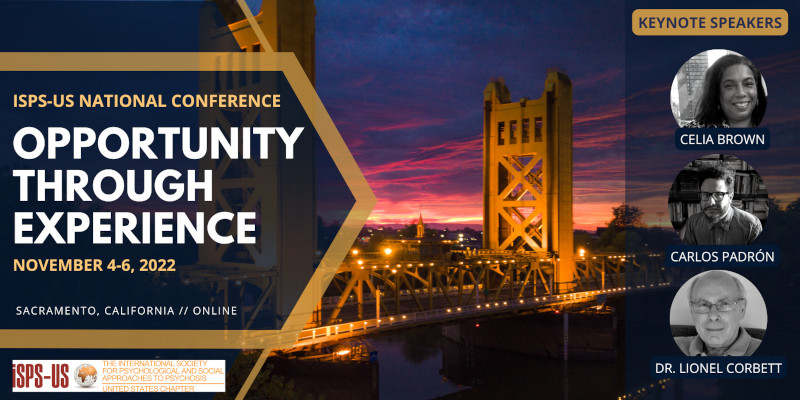 Experience is an essential element of being human. Softly and subtly, or harshly, even relentlessly, it envelops and often enlivens us. Our reactions to experience reflect and create our emotional fingerprints, both defining and expressing who we are. Yet too often, these reactions to experience are pathologized, diagnosed and labeled rather than respected, especially if they are transpersonal, numinous, extreme, or exceptional. Experience can be filled with pleasure, ease and excitement, or it can bring hardship and isolation. Within every experience, however, lies opportunity. While we all share some of life's most basic experiences, our experiences can also set us apart. When that happens, we sometimes despair of ever being understood. Too often, what passes for "mental health treatment" involves the imposition of interventions that fail to take into account our experiential histories, the social and systemic contexts in which our lives have unfolded, and the relational worlds that were our first teachers and provide the fabric of our days. Yet there are also times when we delight in the coming-together that is the result of deep listening. Opportunities for transformation are all around us, whether those occur in treatment settings, through the arts, or in our encounters with others with whom we feel able to share stories and perspectives.
We are happy to announce that the 2022 ISPS-US Conference, "Opportunity Through Experience," will be held in Sacramento, California, November 4-6, 2022. People with lived experience, family members, clinicians and researchers are all invited to attend to promote mutual collaboration and respect. We especially welcome participation from members of marginalized groups whose experiences have included systemic as well as relational traumas and challenges.
In 2022, we will feature a special series of events that will introduce the next generation of clinicians to the act and art of discovering opportunity in extreme states through the provision of deeper listening. The event will be hybrid, in person and live streamed online, allowing participants and speakers to join us from around the world. Content will be recorded and hosted on our online event platform for registrants' enjoyment for a month post-conference.
Register: HERE
PAST EVENTS:
The Voices Behind The Book of Form and Emptiness: Ruth Ozeki in Conversation with the Hearing Voices Network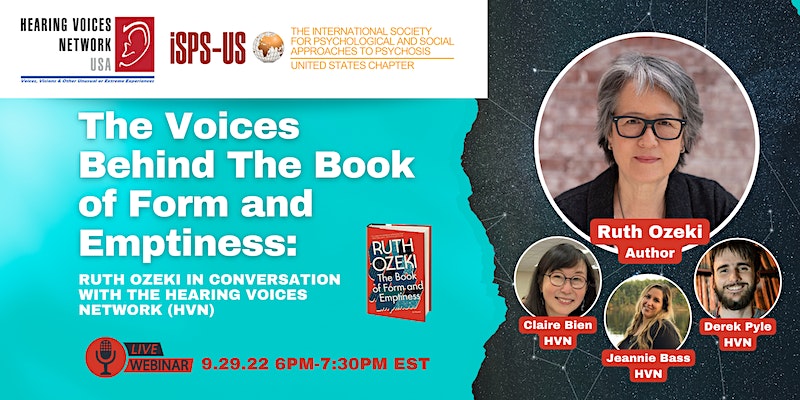 The Book of Form and Emptiness by Ruth Ozeki tells the story of a young voice hearer named Benny Oh. The novel is narrated by one of Benny's voices, a book that tells the story of Benny's life. Although Benny experiences mainstream psychiatric care including psychiatric hospitalization, it is not the medical model that helps Benny make sense of his life.
Like many voice hearers, Benny makes meaning out of his experiences through developing relationships with fellow psychiatric survivors and voice hearers, and through finding ways to relate positively to his own voices. The Book of Form and Emptiness, which won the Women's Prize for Fiction 2022, is a remarkable example of how the core principles and understandings of the Hearing Voices Network approach are reaching new audiences around the world.
On Thursday, September 29th at 6PM Eastern, join us for a lively conversation with Ruth Ozeki and the Hearing Voices Network USA about the power of our voices and the stories we inhabit. Panelists include: Ruth Ozeki, Author; Jeannie Bass, Director of Peer Services and HVN-USA Board member; Claire Bien, Author, HVN-USA Board member, and president, ISPS-US; Derek Pyle, Writer and HVN support group facilitator. With thanks to Remy Blasko.
About the presenters:
Ruth Ozeki is a novelist, filmmaker, and Zen Buddhist priest. Her acclaimed novel, The Book of Form and Emptiness, published by Viking in September 2021, tells the story of a young boy who, after the death of his father, starts to hear voices and finds solace in the companionship of his very own book.
Claire Bien is a Chinese immigrant, voice hearer, author, member of the HVN-USA board, and president of ISPS-US. She facilitates three HVN support groups – including one at Yale Psychiatric Hospital. Books, and the people in them, have provided her with great understanding and much guidance for ways of being in the world.
Jeannie Bass is a voice hearer, member of the HVN-USA board of directors and Director of Peer Support Services in a Massachusetts public psychiatric hospital. She has facilitated an HVN group there since 2014. Her story was featured on NBC in 2018. Jeannie approaches life with a belief that there's "no stronger connection between people than storytelling."
Derek Pyle has lived experience of hearing voices and visions, and he facilitates Hearing Voices Network groups online and in-person. His writing has appeared in Madness Network News, Mad in America, and Lion's Roar.
Register here: https://www.eventbrite.com/e/the-voices-behind-the-book-of-form-and-emptiness-registration-402399938047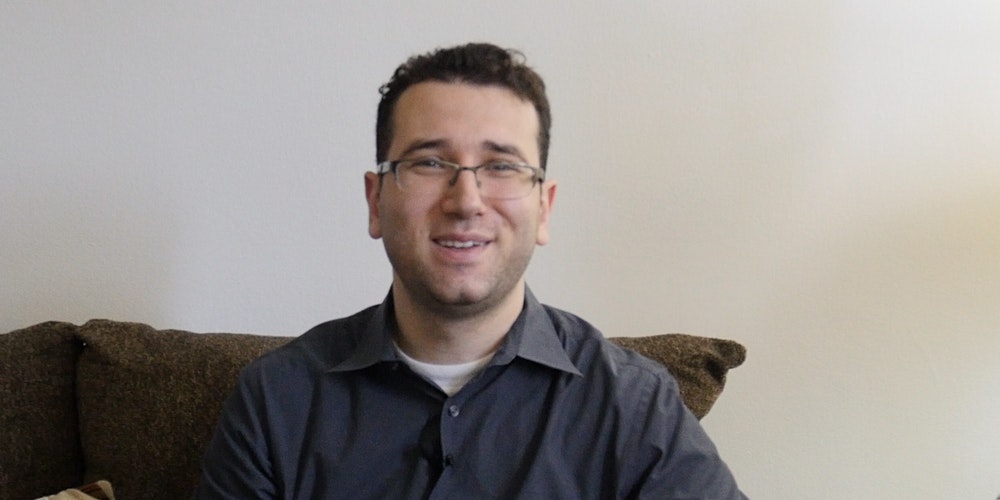 Thursday, Sept. 24: Join this ISPS-US Webinar:
Life with Voices: A Guide for Harmony, with Dmitriy Gutkovich
September 24, 2020, 12:00 – 1:30 pm New York time zone.https://lifewithvoices.eventbrite.com

A positive voice ecosystem is one where voice-hearers talk to friendly voices, on enjoyable topics, and only when they are not busy. For voice hearers who do not want to or cannot get rid of their voices, achieving this positive voice ecosystem is key for a desired lifestyle. After a decade of lived experience and community leadership roles, Dmitriy Gutkovich has completed a book to help voice hearers achieve harmony with hostile voices and to avoid confusing beliefs, all while maintaining physical community.
Among the strategies presented will be understanding the motivations of distressing voices, defending against their attacks on attention and happiness, and navigating the relationships into harmony rather than hostility. Listeners will also gain insights on how to explain the hearing voices experience, and how to recruit a physical community that helps voice hearers, rather than causing additional pain.
Whether you are a voice-hearer, a family member, a friend, an academic, or a provider, this webinar aims to deepen your understanding, and to teach you the core skills for navigating, a life with voices.
About the Presenter
Dmitriy's journey to help the hearing voices community has earned him leadership roles in 4 nonprofits (Hearing Voices Network USA, ISPS-US, HVN-NYC, and NYC PWC), an advisory role for the Yale Cope Project, and to being a coach, facilitator, and advocate for the hearing voices community. He is now also the author of the recently completed Life with Voices: A Guide for Harmony.https://www.lifewithvoices.com
His main projects include celebrating the stories of those with lived experience, and creating a forum where those with lived experience can share their tools and strategies for improving quality-of-life.
Register here.https://lifewithvoices.eventbrite.com
A donation of $5-$40 is requested, though no one turned away for lack of funds. Please note that your donation goes to a good cause: it supports the efforts of ISPS-US to bring more attention to psychological and social approaches to psychosis. Due to the pandemic, it is a difficult time for a small non-profit like ISPS-US, so any donation you can make is much appreciated!
But if you cannot afford to donate anything, there are instructions under "event description" on the website about how to register without donating.
ISPS US webinars are recorded and shared on the ISPS website. Those who register will be emailed a link to the recording when it becomes available.
For more information about the webinar, contact Ron Unger: [email protected]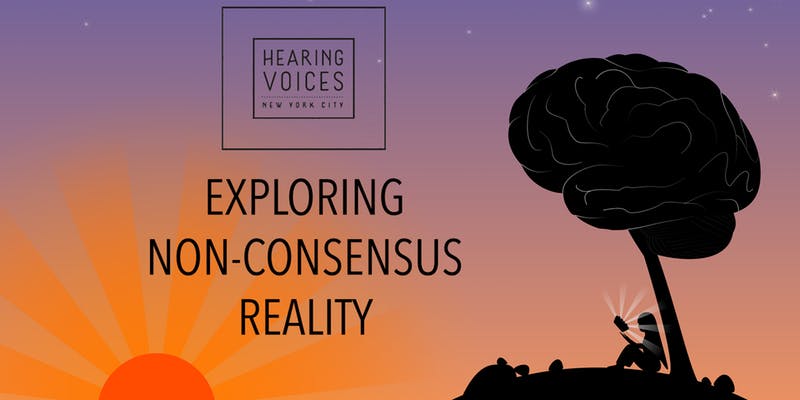 Come to our FREE event with Institute for the Development of Human Arts
Register HERE
October 23rd, 2019 7-9pm
About this Event
BACKGROUND: HEARING VOICES NETWORK NYC
Those who hear voices or have other unusual perceptions have a long history of being cut out of the conversation regarding the true meaning of their experiences. Weighed down by labels of insanity and stigmas of being dangerous, the 5 to 15% of humans who experience these phenomena most often decline to self-identify, treating their rich inner worlds as a closely guarded secret. Hearing Voices Network is building a community where voice hearers and allies can reclaim their narrative – while sharing the insights, support, and strategies that are known to improve quality of life.
On October 23rd, IDHA is hosting an evening of community exploration centered on hearing voices and the experience of perceiving non-consensus reality. How can we challenge and shift inaccurate cultural labels when acknowledging our truths so often leads to significant social and career stigma? What are the alternative interpretations and strategies for living while hearing voices?We will be joined by an expert-by-training and an expert-by-experience from the Hearing Voices Network NYC Board to repaint the picture on voices and cultural norms, digging into the challenges of a human rights movement discredited before it even speaks. The presenters will share their work, relaying the hearing voices experience, non-medical solutions for maintaining happiness and stability, and the history of voice hearers from around the country and world coming together to emphatically declare "no" to labels and prejudices.
Presenters:
Dmitriy Gutkovich
Leah Rokeach, LCSW
This event is open to all people, including people with lived experience, family members, activists, allies, and psychiatrists or other mental health providers. We recognize a diverse set of perspectives, including people with lived experience who prefer medical explanations, as well as mental health professionals offering criticisms on their careers and research.
PAST EVENTS:
World Hearing Voices Day Event on 9/14/19
A full 
5 to 13%
 of humanity hears voices during their lifetime. Whether they believe they are psychics or in need of psychiatry, talking to spirits or responding to satellites, most of these people will not self-identify or share their experience to family, friends, or community. What are these voices that others can't hear? We suppose it is a matter of perspective…
To celebrate 
World Hearing Voices Day
 on Sept 14th, please join us to hear from five presenters with very different backgrounds and understandings of the hearing voices phenomenon.
Please forward this message or share a 
#HearingVoices
 tag, and we hope to see you on Saturday the 14th 2:00 PM, at 
Perspectives on Hearing Voices.
Where:
One Spirit Learning Alliance 247 West 36th Street 6th Floor New York, NY
When:
Saturday September 14th 2019 at 2pm
Cost:
FREE but you must register: https://tinyurl.com/yxj5tprs

Hearing Voices Network NYC is having its first-ever facilitator training for people that want to start their own Hearing Voices groups. The training will be 2 full days and will consist of hands-on/practical approaches to starting your own Hearing Voices group.
Dates: June 2nd-3rd, 2018
Where: Community Access in the East Village
Cost: $200 Full Price, $150 Students/Low Income, Scholarships available for voice-hearers contact Tami: [email protected]
Who is teaching: Voice-hearers and people with lived experience of extreme states from the New York City community, plus some clinicians who have developed allied groups within institutional settings or in the community with co-faciliation
Why: Many people have approached us about wanting to start Hearing Voices groups in NYC, but don't feel they have enough practical or 'hands-on' knowledge to start their own. This 2-Day facilitator training is an attempt to vitalize the Hearing Voices Network in NYC and help people feel ready to start their own group.
RSVP: [email protected]

Co-sponsored by ISPS-US and Hearing Voices NYC:
THEY HEARD VOICES is documentary film exploring the Hearing Voices Movement, chronic psychosis and the schizophrenia label. The film is a series of wide-ranging interviews with voice hearers, medical historians, anthropologists and psychiatrists from Britain and America, presenting different people's views.
Panel with audience Q & A will follow featuring members of ISPS-US & Hearing Voices NYC:
Matt Estrada, Tami Gatta, & Peri Zarella
TRAILER: https://vimeo.com/185557072
In celebration of Worldwide Creative Maladjustment Week
(July 7-14)
When: July 13th 2017
Where: Jefferson Market Library 425 Ave of the Americas (6th ave & 10th Street)
Cost: FREE

Dinner with Matt & Peri! **Limited Seating**
Matt & Peri are going to talk about their experiences running a Hearing Voices group in a community setting (Max Caffe!)
and can answer any questions people have about starting groups. If you are a current or past facilitator, consider coming to help
teach new people about how to run groups. If you are a new facilitator, come by to learn from current facilitators.
Chill, laid-back discussion & community gathering
Wednesday 6/14 6:30-8pm
**You must order food if you come we want Max Cafe to keep liking us**
Location: Max Caffe: 1262 Amsterdam Ave New York, NY 10027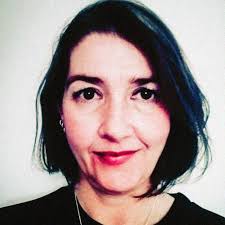 What Does it Mean to Facilitate a Hearing Voices Group?
FREE Full-Day Event for People Interested in Starting their Own Hearing Voices Group
with Jacqui Dillion (Chair of Hearing Voices Network England)
Monday June 5th 2017
10-3pm
Jefferson Market Library
425 Ave of the Americas (6th Ave & 10th Street)
Please indicate if you are willing & ready to start a Hearing Voices group, as there is a smaller strategy meeting afterwards 3-4pm with limited seating

Hearing Voices NYC is happy to announce our collaboration with the #EmergingProud campaign! #EmergingProud is ultimately a campaign about providing hope; that breaking down does not mean we are broken; it means that we can be amidst a difficult journey to 'breakthrough'.
The launch of International #EmergingProud day on Friday, May 12th, aims to expand the public perception of 'normal' all over the world. The event brings together collaboration from many organizations and 8 countries, seeing all voices join to bring evolution in mental health support, and will also include premiere screenings of CRAZYWISE. Together, we are creating a new global movement towards a dream we all share. For more information on the campaign go to:http://www.emergingproud.com/
What:
Screening of the film CRAZYWISE with panel featuring:
Sascha Altman DuBrul– NYC Icarus Project & Institute for the Development of Human Arts
Issa Ibrahim– Author of The Hospitals Always Wins
Peri Zarrella- Hearing Voices Network NYC
Kevin Tomlinson– Director & Executive Producer of CRAZYWISE
When:
May 12th 2017
Doors open at 6:30pm, Screening starts at 7pm
Where:
NYU Langone Hospital at First Ave and 30th Alumni Hall A
Sponsored by:
International Society for the Social and Psychological Approaches to Psychosis – United States Chapter Icarus Project NYC
Institute for the Development of Human Arts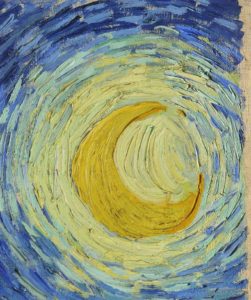 Please join us for a lively afternoon exploring how insights from people who have been diagnosed with psychiatric illnesses are raising fundamental questions about mental health, community and human experience.
Featuring:
Jacqui Dillon- National Chair, Hearing Voices Network, England, and co-editor of "Living with Voices, An Anthology of 50 Voice Hearers' Stories of Recovery". See: www.jacquidillon.org
Gail A. Hornstein- Professor of Psychology, Mount Holyoke College, and author of "Agnes's Jacket: A Psychologist's Search for the Meanings of Madness". See: www.gailhornstein.com
Noel Hunter- Clinical Psychologist and Board Member of Hearing Voices Network USA. See: www.noelrhunter.com
Greg Shankland- Voice Hearer and business strategist. He is the founder of MAD-Sense, bringing unique insights to the understanding of intrusive phenomena. See: www.mad-sense.com
Plus a bakesale to support Hearing Voices NYC & the Our Voices Raised Project
CG Jung Foundation of NYC (28 East 39th Street)
$60 Students/Reduced Income Fee
**All proceeds go to Hearing Voices Network NYC and the Our Voices Raised project **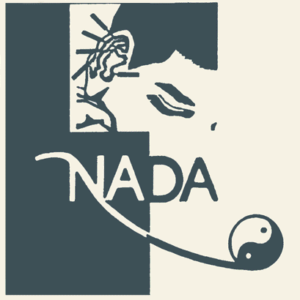 What: The NADA Protocol is a special type of acupressure/acupuncture used for emotional distress that can be administered by anyone. It is a non-verbal approach to healing that includes non-invasive beads, seeds, or acupuncture needles in the ear. This training was inspired by Will Hall's most recent Madness Radio Podcast on the subject.
When: March 2nd 2017 at 6-8pm
Where: Jefferson Market Library 425 6th Ave (at 10th Street)
What to expect: This is a hands-on workshop. Participants will experience for themselves the NADA protocol (i.e., acupressure with beads while sitting quietly). Participants will then be asked to share their experiences with the group and will practice placing the beads on others. There will be plenty of time for questions & answers. The instructor is Jo Ann Lenney, an expert trainer with NADA.
All welcome!
What: Using Creative Arts with Voice Hearers: A Workshop with Tami Gatta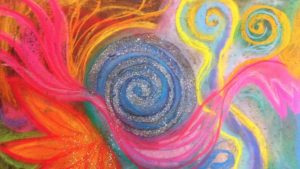 Who: All are welcome!
When: December 8th at 6pm
Where: Community Access 2 Washington Street 9th Floor main conference room.
This presentation will be about using the creative arts when talk doesn't seem to capture the experiences of voices, visions and other extreme or unusual experiences. Tami will discuss her own reasonings for eschewing classic "talk therapy" methods, and will speak about using the arts to externalize and concretize the voice hearing experience. The workshop will be experimental and will be an opportunity for people to try out techniques for themselves.
Workshop on Mindfulness & Compassion for Extreme States with Rufus May & Elisabeth Svedholmer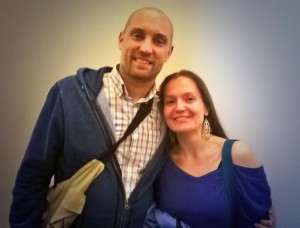 Saturday, June 4th, 11am to 2pm
@ C.G. JUNG FOUNDATION, ELEANOR BERTINE AUDITORIUM
28 East 39th Street, New York, NY 10016
Co-sponsored by Hearing Voices NYC and the Western Mass Recovery Learning Community
About this Workshop:
This workshop will look at different ways to use mindfulness and compassion based approaches with powerful states of mind. It will include: how mindfulness can help us as supporters, practical techniques that can be useful for strong mind states like mania and restlessness; Grounding and centering techniques; Compassionate communication styles Supporting people to develop a compassionate self.
Registration is required and space is limited. A limited number of number of free tickets will be provided to those with significant financial constraints. Please e-mail [email protected] if you are interested in a free ticket.
Register HERE
FREE SCREENING of HEALING VOICES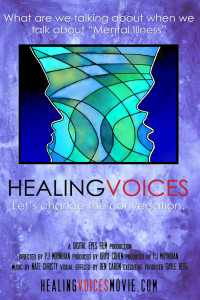 TAKING BACK YOUR LIFE: Stand Up & Start Up!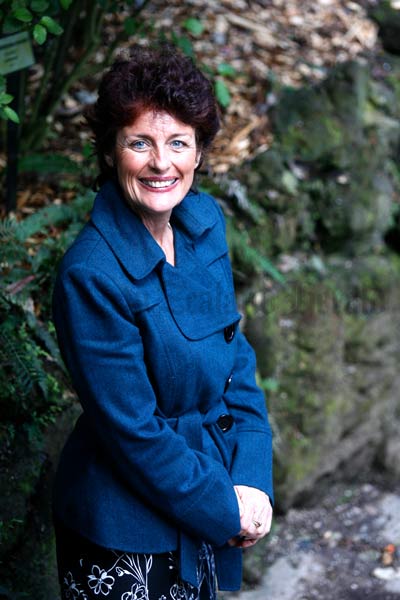 In this talk Debra Lampshire, who spent decades institutionalized and who now gives lectures to mental health professionals regarding recovery, will discuss how she overcomes the fear of asserting herself, how to feel confident and capable regarding starting & leading groups. For those who are feeling anxious, uncertain or who fear stepping up to the plate to start an HVN or other group, this meeting will be sure to inspire. This meeting is free to all.
Friday September 25 from 6 pm to 8 pm.
Location: Jefferson Market Library
425 Avenue of the Americas (6th Ave) between 9-10th Streets
New York , NY 10011
Take A, B, C, D, E, F to West 4th Street or 1, 2, 3 to 14th St, F to 14th, L to 6th Ave, 4, 5 to 14 th St-Union Square or 6 to Astor Place
NYC's 9th Annual Peer Specialist Conference: Eye on the Future, A Kaleidoscope of Possibilities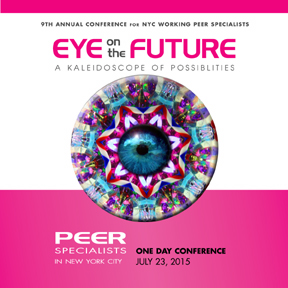 When: July 23rd, 2015
Where: New York University Kimmel Center
Hearing Voices Network Workshop
June 2015
Where: Maimonides Medical Center, Department of Psychiatry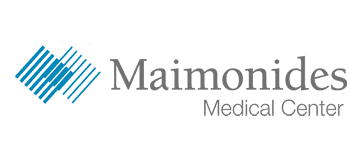 "What happened to you?" A discussion and gathering on trauma and emotional distress
Spring 2015
Where: Jefferson Market Library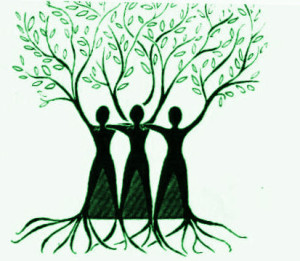 Workshop: Making Sense of Violent & Taboo Voices with Rai Waddingham from Hearing Voices England
May 2015
Where: A.R.E. Center
FREE Hearing Voices Workshops with Noel Hunter (featured), Marie Hansen, Barry Floyd & Ross Tappen
Fall 2014
Where: Jefferson Market Library
Save
Save
Save
Save
Save
Save
Save
Save
Save
Save
Save
Save
Save
Save
Save
Save
Save
Save
Save
Save
Save
Save
SaveSave
SaveSave