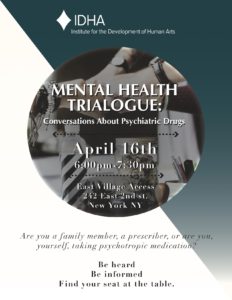 When: Monday, April 16, 6:00 – 7:30 pm
Where: East Village Access (242 E 2nd Street)
FREE
Are you a family member of someone taking psych meds, a prescriber of psych meds, or are you, yourself, taking psychotropic medication?

Are you interested in hearing real perspectives on people's experiences with psych meds?

Are you concerned about multiple side effects, the stigma around taking meds, access to services, navigating the system, or the challenges around coming off/starting psychotropic medication?
Despite shifts towards inclusiveness and partnership in mental health services development, meaningful open communication between professionals, service users and families within the mental health system remains a challenge.
This Mental Health Trialogue (MHT) is the first of a monthly forum that brings together personal perspectives from providers, peers/survivors, family members and other interested parties to discuss issues and experiences with psychotropic medication, among other subjects. The goal of the forum is to foster rich discussion and to change the perception that only those who work in the field of mental health are the experts in mental health.
MHT's combination of expertise and experience provides a unique wealth of collective knowledge to which individuals or people from different perspectives would not otherwise be exposed.
Trialogue meetings are open to current or former mental health service users, families and friends, professional mental health workers, prescribers, as well as all community members with an interest in mental health. All are encouraged to attend.
Three members from the Institute for the Development of Human Arts, a psychiatrist, a person with lived experience, and a family member, will open the forum by explaining the purpose of MHT, then launch into a "trialogue discussion" about experiences with psychotropic medication. We will then open the conversation to all in attendance to share their responses if desired and foster community. Snacks and refreshments will be provided.


MHT provides a supportive, non-judgemental space to share unique stories, find solidarity and discover new complementary perspectives that offer clarity, insight, and supportive community. MHT is not a support group, a source of medical/psychiatric advice, or a therapy session.
Be heard, be informed, find your seat at the table.