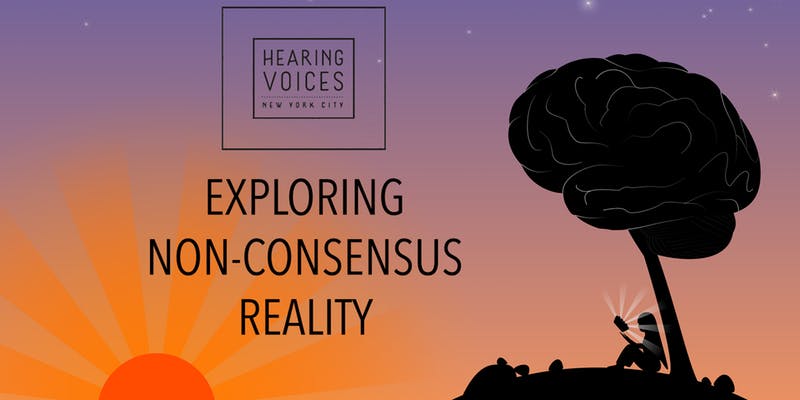 Come to our FREE event with Institute for the Development of Human Arts
Register HERE
October 23rd, 2019 7-9pm
About this Event
BACKGROUND: HEARING VOICES NETWORK NYC
Those who hear voices or have other unusual perceptions have a long history of being cut out of the conversation regarding the true meaning of their experiences. Weighed down by labels of insanity and stigmas of being dangerous, the 5 to 15% of humans who experience these phenomena most often decline to self-identify, treating their rich inner worlds as a closely guarded secret. Hearing Voices Network is building a community where voice hearers and allies can reclaim their narrative – while sharing the insights, support, and strategies that are known to improve quality of life.
On October 23rd, IDHA is hosting an evening of community exploration centered on hearing voices and the experience of perceiving non-consensus reality. How can we challenge and shift inaccurate cultural labels when acknowledging our truths so often leads to significant social and career stigma? What are the alternative interpretations and strategies for living while hearing voices?We will be joined by an expert-by-training and an expert-by-experience from the Hearing Voices Network NYC Board to repaint the picture on voices and cultural norms, digging into the challenges of a human rights movement discredited before it even speaks. The presenters will share their work, relaying the hearing voices experience, non-medical solutions for maintaining happiness and stability, and the history of voice hearers from around the country and world coming together to emphatically declare "no" to labels and prejudices.
Presenters:
Dmitriy Gutkovich
Leah Rokeach, LCSW
This event is open to all people, including people with lived experience, family members, activists, allies, and psychiatrists or other mental health providers. We recognize a diverse set of perspectives, including people with lived experience who prefer medical explanations, as well as mental health professionals offering criticisms on their careers and research.